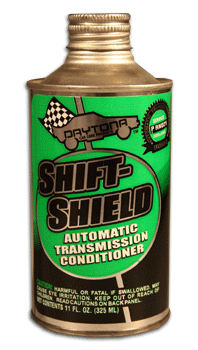 ShiftShield


(11 FL. OZ.) Part No. 5

• Increases automatic transmission life
• Retards fluid oxidation and foam
• Revitalizes seals and o-rings
• Provides wear protection and smoother shifts

Enhances properties of new and used ATF helping prolong automatic transmission life. Improves fluid oxidation stability and retards the formation of sludge and varnish deposits keeping valves and governors free to help maintain proper shifting characteristics. Helps stop fluid leaks and conditions seals keeping them soft and pliable. Helps prevent clutch chatter, helps prevent lock-up converter shudder, lowers transmission operating temperatures, helps prevent overheating, eliminates foaming and optimizes overall transmission performance.